Description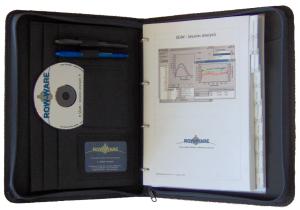 The Organiser is a robust A4 writing-case with zip and ring binder. It contains a printed full colour
SEAN : Session Analysis
manual (60+ pages), note paper, results templates, training schedule templates, a CD-ROM (with software, manual, demo movies and sample data) and extras.
With the ring-binder, users can add their own pages to the Organiser, and replace out-dated (or superfluous) content themselves.
Back to top
Purpose
The Organiser targets coaches and individual rowers who want to use their
Rowperfect3 rowing simulator
and Windows software
SEAN : Session Analysis
to the maximum extent. But the Organiser is
not
just a bunch of manuals; it is intended to be updated and expanded by its user(s) over time, by adding their own training diaries, schedules, logs, results, appointments, notes etc. .
Back to top
Pricing
Pricing details can be found on our
price list
.
Back to top